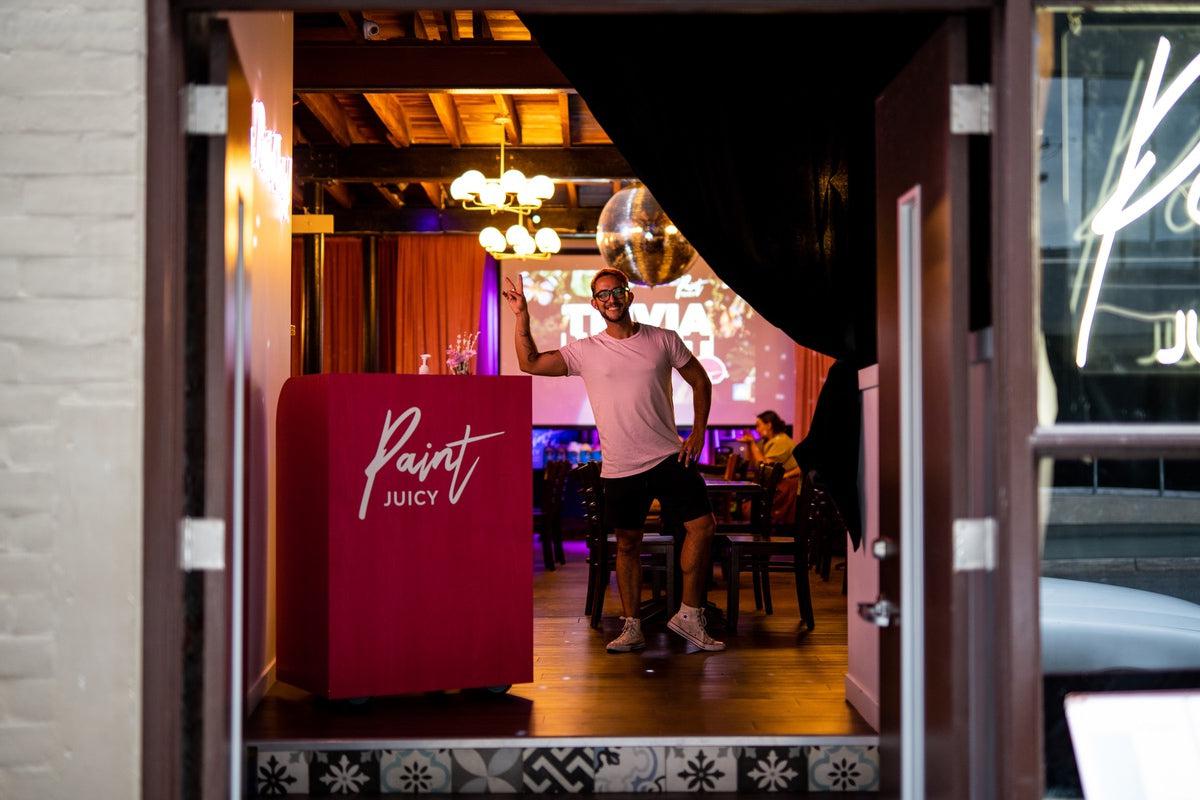 Welcome to Paint Juicy Paint and Sip, your ultimate destination for an extraordinary entertainment experience in Brisbane, Queensland! We're not just your typical paint and sip studio—we've taken things to the next level by offering a fantastic range of additional entertainment options that will leave you amazed and thoroughly entertained.

In addition to our renowned paint and sip events, we are proud to present an array of exciting entertainment offerings that will make your time with us truly unforgettable. Get ready to immerse yourself in the world of vibrant performances and engaging activities at multiple venues across Brisbane.

Indulge in the mesmerizing world of Drag Shows, where talented performers take the stage and captivate audiences with their charisma, talent, and stunning performances. Be prepared to be dazzled as these incredible artists bring glamour, humour, and excitement to the forefront, creating an unforgettable evening of entertainment.

Join us for our delightful Bottomless Brunches, where you can savour delicious food and sip on endless drinks while enjoying a lively and vibrant atmosphere. It's the perfect way to start your day and make lasting memories with friends, all while experiencing the unique ambience of our venues.

Test your knowledge and have a blast at our Drag Trivia nights, where you can showcase your expertise while enjoying a fun-filled evening of laughter, friendly competition, and fabulous entertainment. Put on your thinking caps and prepare to be entertained like never before.

Experience the thrill of Drag Bingo, a unique twist on the classic game that combines excitement, laughter, and fabulous prizes. It's an interactive and entertaining event with you on the edge of your seat, eagerly awaiting the next call and the chance to win big.

But wait, there's more! Our range of fun events doesn't stop there. We're constantly adding new and exciting experiences to our lineup, ensuring that there's always something fresh and captivating for everyone to enjoy. We've got everything from themed parties and live music performances to special guest appearances!

At Paint Juicy Paint and Sip, we're committed to providing you an extraordinary entertainment experience beyond your expectations. Join us at our multiple venues in Brisbane, Queensland, and immerse yourself in a world of art, entertainment, and endless fun. Whether you're a painting enthusiast, a lover of drag performances, or simply seeking a unique and thrilling night out, we have something for everyone.

Book your spot today and embark on a journey filled with creativity, laughter, and unforgettable moments at Paint Juicy Paint and Sip in Brisbane.
Get ready to paint, sip, and be entertained like never before!
If you have any questions, please let us know via the contact form below